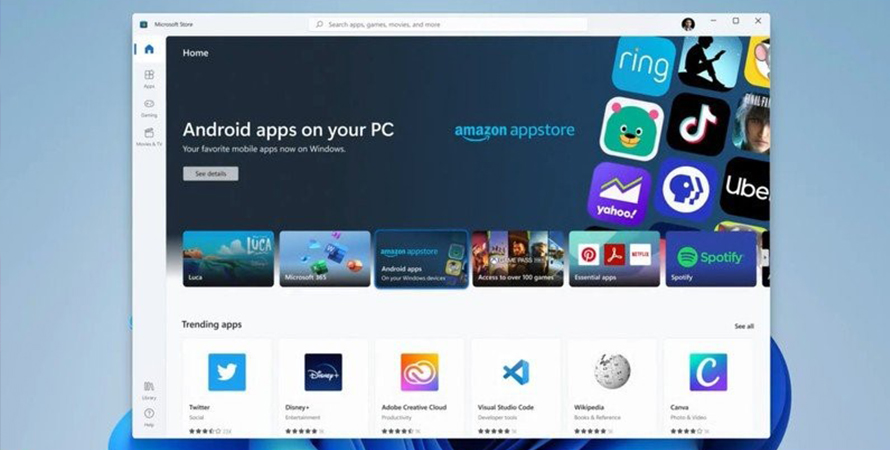 On October 5th, Microsoft released Windows 11 as a free upgrade for Windows 10 users. This sleek and colourful new operating system brings the best features of Windows 10 and smashes them firmly against exciting new capabilities like handsome widgets and built-in Teams integration. But, behind the glamorous polish lies a genuine powerhouse. Windows fancy new Hyper-V Virtual Machine Subsystem lets users enjoy a curated selection of Android apps from their desktop computers.
Soon, Microsoft plans to give users full access to the Amazon Appstore. So, what does this update mean for businesses with Android apps? How will Windows 11 impact the app market going forward? And what do marketers need to know about this change to the unofficial hierarchy of app-capable devices?
A Mobile Interface for Your Desktop?
We're all relatively familiar with Windows at this point. Sure. Over the past few years, the interface has become cleaner and more "mobile-like" and the bucolic green hillside background was replaced with a mechanical blue Windows logo. But the fundamental DNA of Windows has gone mostly unchanged. You still get a desktop littered with shortcuts, a handy-dandy taskbar, and plenty of pop-ups trying to guilt-trip you into ditching Chrome for Edge.
In this update, we get the same DNA. But something is... different. The Start Menu is now centered. The borders around each pop-up scream Mac. And the entire experience feels more like it's being delivered on a tablet rather than a PC. You're either going to love it or hate it. But one thing is clear: it's sticking around for at least 2 years.
We could spend hours going over the new Snap Groups and Snap Layouts, diving into the dirty details of Microsoft's new gaming-centric upgrades, or discussing how pre-installed Teams is going to change how businesses operate in the digital-first ecosystem. But we want to talk about something else. Something we believe is going to change where marketers and businesses focus their energy over the next couple of years. And something that feels inevitable.
Microsoft is putting Android apps onto Windows 11. And here's why that's a really, really big deal.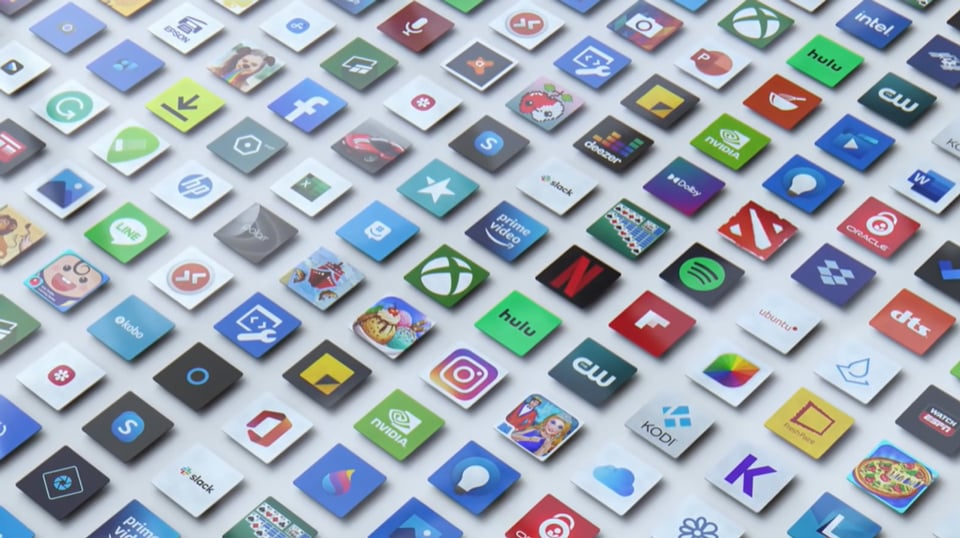 Android Apps on Windows 11: A New Opportunity for Customer-hungry Businesses
Currently, the new Android apps feature is available for Windows Insiders using Windows 11. For most users, the ability to play around with mobile apps in Windows 11 will likely be pushed back until 2022. So, you have time to consider your app strategy.
You may not know it yet, but apps are going to help define your business. Whether you're a teeny-tiny business with absolutely no stake in the app market or an app-centric company pushing out groundbreaking mobile experiences on a daily basis, apps will be a significant source of your mid-horizon growth.
Don't believe us?
In 2020, 218 billion (yes. billion.) apps were downloaded. Over 60 percent of these were downloaded on the Google Play Store. That's not all. Over 90 percent of mobile time is spent on apps. That's around 227 minutes of the day. Yeah! Apps are a big deal. They command a significant portion of our time as humans.
The question is: how can you use this new Windows 11 update to pull users to your awesome apps? Or, alternatively, how can you leverage these new changes to the app market to push effective marketing strategies to potential customers?
How to Use Windows 11 to Win New App Customers
Let's be honest. Most companies code apps with an iOS-first mindset. And certainly, Amazon Appstore is near-last on the list of app platforms. But that may change soon. Windows 11 opens up an entirely new ecosystem of opportunities. Imagine pushing productivity apps, games, and tools to this new Windows environment. There are a TON of opportunities for app developers to make a dent in new marketplaces and create cutting-edge solutions for new audiences.
For businesses, this new feature unlocks additional opportunities. Looking to push out a new enterprise-grade app? Why wouldn't you develop the app with both mobile and Windows in mind? Most companies are reimagining their core business models in the light of digital transformation. Windows swallowing some of the Android market seems like a no-brainer for Microsoft — and a great opportunity for businesses.
Currently, we see three core pillars of growth with this update:
App creation
With Windows joining the Royal Rumble of app platforms, new opportunities for groundbreaking apps are appearing out of thin air. As we mentioned previously, there's obvious value in Windows-centric productivity apps. But we can also see the appeal of new gaming apps — especially with Windows 11 new gaming upgrades like AutoHDR.
App marketing
Of course, this update also presents new marketing opportunities. Targeting app users on desktop devices suddenly makes sense. And retargeting campaigns are instantly more complicated and fruitful. We won't spend too much time gushing over these new marketing avenues. But it's important to remember that navigating the app marketing space is going to be new, exciting, and challenging. There will be winners. And there will be losers. So it's important to partner with an agency deeply familiar with dynamic marketing strategies.
Internal productivity
As businesses continue to build digital factories to pump out apps, tools, and digital resources for customers and employees, finding ways to glue this spiraling digital cobweb together isn't easy. With Windows embracing the Android ecosystem, it's a little more simple. Your business can create mobile and desktop apps without jumping between new code or pushing out two similar-yet-different projects.
Are You Ready to Win with Android & Windows Apps?
We're no strangers to new opportunities. They give small businesses a chance to make big growth grabs. And they give established companies a gap to completely overtake competitors. But to win in this new wartorn app landscape, you need some serious marketing muscle. That's why we've got your back.
At Weblite, we help companies grapple with the explosion of available marketing channels. Whether you're looking to build your own proprietary app to connect audiences to your services, or are looking to streamline workflows internally, we have the expertise and knowhow to get you started. After all, we live and breathe digital transformation, and we're looking forward to seeing how we can help you take that leap.
From websites to applications, Weblite is ready to build your company a foundation for growth and change. Contact us to learn more.