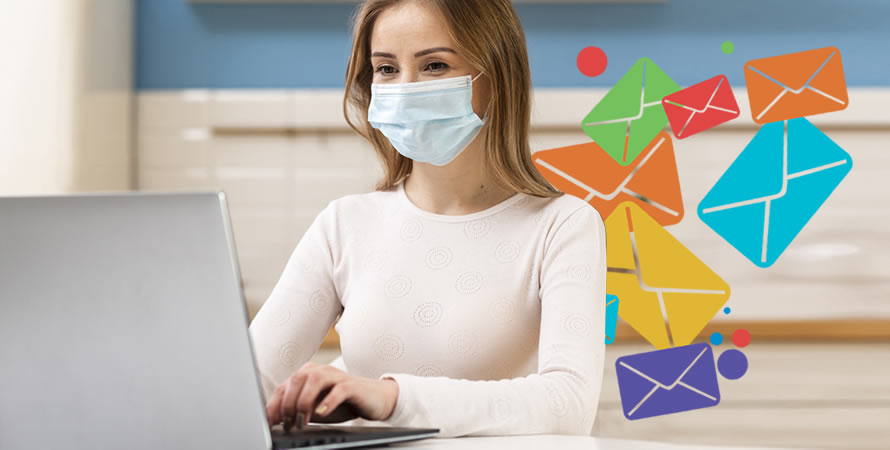 Email is one of the backbones of modern business. Email is the most reliable synchronous message service on the web. It is used for every type of communication from personal messages to automated processes to business transactions. It has been around for decades and will remain for decades more, so it's no wonder that companies of all sizes rely on email as the primary way to stay in touch with customers. Marketing, customer support, account management, and newsletters are all conducted through email, and that won't be changing any time soon.
However, circumstances change and this forces us to adapt our email strategy. The current COVID-19 pandemic has had a profound impact on the population. Only companies that are aware and responsive to the new conditions will. This means it's time to change the way we talk to customers making it the best time to updating your email marketing strategy.
Email Marketing During the Coronavirus Pandemic
Right now, content sensitivity is at its peak. Marketing campaigns that are not sensitive to their audiences resulting in embarrassing reversals can be seen in every sector. Norms have changed and inviting people to our place of business is tougher due to whatever restrictions that may be in place. Unsurprisingly, this cuts out a lot of standard marketing phrases and tactics. There's a pretty good chance that your pre-written email marketing content needs to be re-worked, and that all future content should be tailored to the new normal that this has become.
Awareness is Key
Awareness is the single most important element of your COVID-era email content. It is vital that brands show their awareness of the situation and the steps they are taking to keep everyone safe. Awareness can be displayed with a casual or serious reference. You can mention the lockdown off-hand or share a few sombre thoughts. The important thing is to let your readers know that your business is aware and acting in everyone's best interest.
Review and Update Future Email Content
Any pre-written or generated email content needs to be reviewed immediately, before it launches on the next automated wave. Certain statements, perspectives, and calls-to-action could easily be deemed insensitive. This is also true of any deals or offers mentioned in your emails. Travel-related content, for example, must be changed drastically while retail-related content may only need minor adaptations.
Be acutely aware of how your content reads in light of the lockdown, work-at-home struggles, and necessary fear of viral infection. Make sure to keep a positive tone while treating the pandemic seriously.
Build a New Plan, Then Send the Newsletter
Many brands are jumping the gun on COVID-19 updates to their customer base. Many people are sharing or complaining that their inboxes are full of essentially meaningless newsletters from the various brands they have shopped with. Don't send platitudes before you have something to say.
In other words, rebuild your business plan before sending out the new normal newsletter. At most, send a polite email letting customers know that response might be impacted during the transition. Then, when you are ready to implement your new post-Covid business plan, send another email letting everyone know what your new hours and modes of business will be. This is the information your readers want to see and will open in their inboxes.
Do Not Over-Communicate About the Coronavirus
At the same time, do not over-message your mailing list. Don't send them an avalanche of helpful work-at-home tips unless they have subscribed for that. Don't send a wave of platitudes or even friendly business updates. Right now everyone is dealing with inboxes overflowing with COVID-19 related messages. Do everyone a favour and avoid contributing to the clutter. By sending fewer messages, you can increase the value and open-rate of those you do send.
Maintain Your Brand Personality (and Sense of Humor)
It can be tempting to get overly serious in your emails during the pandemic, but you don't need to. Your customers are getting enough serious advice. What they need from you is targeted messaging in your brand's signature personality. If you are usually a jovial and light-hearted brand, lift the spirits of your audience by finding something funny or positive to say. If your brand is usually has a casual advise tone, keep that best-friend vibe in your COVID-era emails.
Adapting to the New Normal
Lastly, it's important to consider certain conditions as our new normal. There's no telling if or when the coronavirus infection risk will pass, and businesses need to adapt to fill the indefinite needs of the population today. Make sure your emails and future content reflect that and aim to help your audience adapt to the new normal as well in the most pleasant way possible.


COVID-Era Email Tips for Small and Medium Businesses
Most COVID-adaptation stories you read about in the news focus on huge enterprise businesses like Hershey's and Amazon. However, their tactics aren't always a good fit for small and medium sized businesses. We've put together a few small-business email marketing tips for the COVID-era.
Let Customers Know You Are Open for COVID-Safe Business
Customers today are within their rights to assume that a local brick-and-mortar store is most likely closed during the lockdown. If your doors are open and/or you are offering secure no-contact services to the home, let your customers know! Send out an email telling them your hours, services, and the measures being taken to keep everyone safe. This is a quick way to transition in-person customers into online-access customers seamlessly.
Answer Questions About the Changes
Email is also a reliable avenue of communication with your customers who will definitely have questions. Be ready to field more than a few inquiries about hours, services, and special exceptions. Once you've received a few dozen emailed questions, you email a FAQ with answers for the whole community to benefit from.
Survey How Customers Want Your Business Model to Adapt
You can also use email to shape your COVID-era adaptations and build a stronger relationship with customers. If you are a community-focused brand, consider sending out an email survey asking how customers want to see the business change. Ask for open answers or offer multiple-choice on hours, services, policies, and unique ideas for safe business. Then adapt with the support of your community.
Coordinate At-Home Support and Services
Use email as the backbone of your online communication, especially if your business is still integrating all your online features. Email is reliable and familiar. Everyone has an email address and knows how to send or manage their inbox. Use email to keep in touch and as a backup communication system for things like live chat and other platform-based online conversations.
Newsletters of What You Uniquely Have to Offer
You will want to put some detailed thought into the next strategy. Sit down and think of what your business can offer that is uniquely useful to a population in lockdown. If you are a spa or wellness brand, for example, consider constructing wellness-kits for at-home relaxation and health.  Host classes, give mental health advice, or share at-home fitness advice.
Provide at-home child rearing tips or new home chef recipes. Whatever it is, make sure that it relates to your brand and the services, products, and internal expertise you have to offer. If you're going to share 'at-home' tip newsletters with your customers, think smart and offer something no other brand is offering.


Getting Started with At-Home Email Marketing
If you are currently working at home and hoping to get started with email marketing, the process is surprisingly easy.  All you need are a few key elements and the desire to collect the results. Whether you are part of a now-home marketing team or you are a solo-preneur looking to up your email marketing game, you can get started with email automation in no time.
Build Your Email List
The first step is to have an email list. There are two types of email lists. The first is for your customers who have purchased with you before and left an email address for their account. The second type are leads who have given you their email address but have not yet committed to a purchase. Between them, they make up your audience. You will want to create an email address list with all of them.
Choose an Email Automation Platform
The next step is to choose your software. Email marketing is best done by a modern engine that knows how to process your pre-written content, personalise based on the CRM, and shoot out emails while you are busy keeping your business intact. Choose your email software that will send all future emails from your brand.
Write or Generate Email Content
Finally, remember to write new content or at least have your email marketing software generate new content. Anything you release right now will be viewed in light of the pandemic. Getting started, you will need a few different variations of the same messages and a few definitions of other messages that have grown out now. Write a few emails ahead of your current scheduled release.
---
Email marketing is an essential part of modern business and has been for decades. Your small to medium business may be working hard to stay afloat right now, and we can help. Please contact us today for more email automation and email marketing expertise.